Get A Dental Insurance Quote
Cigna Dental Insurance Company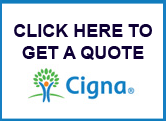 Cigna dental offers a complete portfolio of individual and family dental insurance plans. Cigna offers dental plans in 49 states and the District of Columbia.
With a Cigna dental insurance plan, you'll get coverage for many services, not just routine cleanings and X-rays. You will save the most when you stay in network. But, whether you choose an in-network or out-of-network cigna dental provider or specialist, you'll still enjoy a wide range of dental coverage, including:
Preventive care (cleanings, routine x-rays, and more)
Basic care (fillings, non-routine x-rays, basic restorative work)
Major services (bridges, crowns, root canals and more)
Child Orthodontic Services (Only on myCigna Dental 1500)
Adult Orthodontic Services (Only on myCigna Dental 1500)
The new Cigna dental insurance plans include:
myCigna Dental Preventive: No yearly maximum, no deductible, with Cigna paying 100% of in-network preventive and diagnostic services, and discounts for restorative and orthodontia services.

myCigna Dental 1000: The plan pays up to $1,000 annually after the $50 individual/$150 family annual deductible. Coverage includes preventive, diagnostic and restorative services, with in-network discount for orthodontia.

myCigna Dental 1500: The plan pays up to $1,500 annually with the samedeductibles as myCigna Dental 1000. Coverage includes preventive, diagnostic and restorative services. This plan also includes an orthodontia benefit for all ages.
Waiting periods for Basic and Major services can be waived if you have continious 12 months of priod coverage from a valid dental insurance plan.
Benefits of Cigna Dental
It's easier to manage your medical and dental care with:
Convenient billing and payments. Get your medical and dental insurance statements on one bill. Of course, if you have a dental plan and no medical, you will only get a dental statement.
No claims submissions. Cigna network dentists submit claims automatically.
No need to choose a primary dentist. And no referrals needed for specialist care.
Access to our national network of over 135,000 cigna dental providers. Choose from in-network or out-of-network providers. But if you stay in-network, you will get the best value. Out-of-network discounts may also apply if you use a dentist in the Cigna network.
Customer Service. Call 1.800.Cigna24 (1.800.244.6224) 24/7
Online access with myCigna.com. View your bills and claims online, anytime—and pay your bills online, too.
Mobile access on the go. Find a Cigna Dental Provider, check coverage, and show your ID card with the myCigna Mobile app.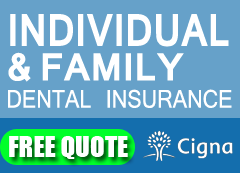 Dental Insurance Providers