Get A Dental Insurance Quote
Delta Dental Insurance Plans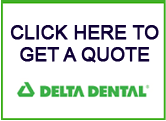 More Than 25 Million Enrolled
Delta Dental of California, Delta Dental of Pennsylvania and Delta Dental Insurance Company, together with their affiliate companies, and Delta Dental of New York, form one of the largest dental benefits systems in the country.
We provide dental benefits plans in 15 states, the District of Columbia, Puerto Rico and the Virgin Islands, covering 25 million enrollees throughout the nation. Our group of companies and affiliates are members of the Delta Dental Plans Association, a network of 39 independent Delta Dental member companies that together provide dental coverage to more than 54 million people nationwide. 
The Nation's Largest Network of Dentists
Nearly four out of five dentists (more than 198,000 dentist locations nationwide) participate in the Delta Dental Plans Association network, giving enrollees more choice than with any other dental benefits provider. 
Click one of the following for more information:
Dental Insurance Providers