Get A Dental Insurance Quote
Renaissance Dental Insurance Plans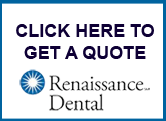 Why Renaissance?
Why should you choose Renaissance Dental as your dental insurance provider? 
Experience
With more than 50 years of experience in dental plan administration, the Renaissance Family of Companies knows dental insurance. 
Customer Service
Renaissance Dental has a customer service center dedicated to helping our Individual Plan members, so it's easy to get the help you need. 
Online Tools
MyRenBenefits gives you 24/7 access to benefits and claim information, plus the ability to print ID cards. 
Accessibility
The Renaissance PPO network combines leading national and regional PPO networks to offer you maximum choice and value. You can find a participating dentist using the search tool below. If you decide to contact a dental office directly, please refer to the following network partners that a dental office will likely recognize: 
Maximum Care
Connection Dental
Preferred (formerly Dental Wellness Partners)
Stratose (West Virginia members)
Click one of the following for more information:
Dental Insurance Providers